A Higher Standard In Medical Training
At Acuity Eye Group®, we are committed to helping ophthalmologists realize their full potential while providing best-in-class patient care to all those in need. We are experts in the business of ophthalmology with years of experience in the industry, a world-class surgeon as our founder, and an unwavering commitment to helping both established practice owners and young professionals further their ophthalmic and optometric careers.

Established in 2005 as the Retina Institute of California, we continue to grow our footprint and network of doctors to ensure patients in all communities have access to care. We treat nearly 300,000 patients each year and we have more than 60 doctors caring for patients across our practices.

Currently, we offer two fellowship programs in the fields of glaucoma and retina disease.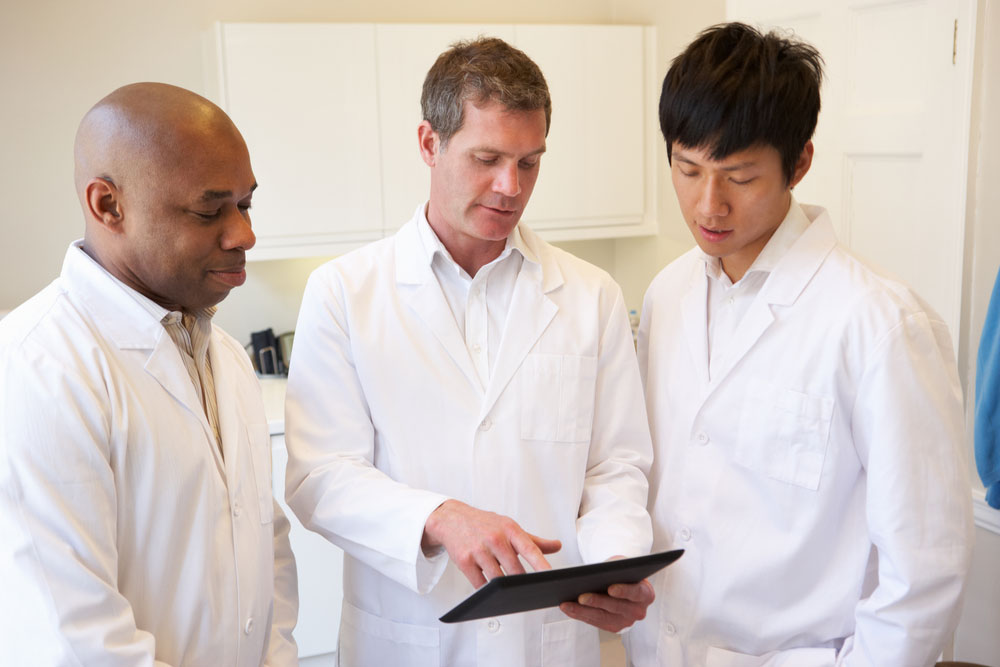 Retina Fellowship Program Overview
We offer a two-year medical and surgical retina fellowship and two, one-year medical retina fellowships (one in LA and one in the Desert region) that participate in the San Francisco Match Program. A single fellow is accepted to each program every year through a competitive selection process. The mission of the fellowship program is to provide university level training in the setting of a modern and efficient private practice.
Fellows will receive an extensive experience in treating vitreoretinal diseases. The surgical fellow will perform many surgical cases and all fellows will perform in-office procedures including lasers and injections. Additionally, if the fellows choose to, they may continue to perform cataract surgeries. Many of our medical retina fellows take advantage of this aspect of the program.
The fellowship provides a broad-based experience as the fellows work closely with multiple attending physicians, learning a variety of techniques. One of the primary goals of the fellowship is to train outstanding retina physicians with a well-rounded experience. In addition, the fellows participate in research and are encouraged to publish and present at meetings. For the surgical fellow, In the second year, they have an opportunity to start building their own supervised clinic and often function as a junior attending physician. The fellows have reasonable call responsibilities that allow them to have a balanced life and enjoy Southern California.
If interested in applying, go to SFMatch.org and follow the procedure for application through the San Francisco Match Program. For further questions, please contact us at fellowship@acuityeyegroup.com.
Glaucoma Fellowship program Overview
We offer a one year medical and surgical glaucoma fellowship in the Los Angeles County region. A single fellow is accepted to each program every year through a competitive selection process.

Glaucoma is the subspecialty of ophthalmology that studies and treats disorders of the eye and optic nerve identified as a characteristic optic neuropathy with associated vision loss. Subspecialists in glaucoma manage patients with complex and/or severe glaucoma disorders and associated ocular conditions. Fellowship training in glaucoma requires more in-depth education about the pathophysiology and management of glaucoma and related ocular and systemic disorders than can be obtained in residency training in ophthalmology. This fellowship in glaucoma includes a continuous period of intense and focused training in developing and maintaining knowledge, skills, scholarship, and professionalism.

A minimum of 12 months of clinical training is required, including appropriate short periods for vacation or special assignments. Any fellow entering must be able to fully comply with the clinical requirements of the program and have completed an appropriate residency program for that sub-specialty fellowship.
For more details on our Glaucoma Fellowship program, click here.

For further questions, please contact us at fellowship@acuityeyegroup.com.
---