100 E. California Blvd
91105
Pasadena, CA
2005
Our industry-leading team of doctors and staff are committed to providing best-in-class eye care services and comprehensive treatment to the people in our communities.

Elizabeth Du, MD
Ophthalmologist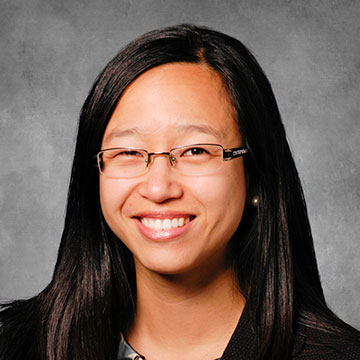 Elizabeth Du
Elizabeth Du, MD
Ophthalmologist
Dr. Elizabeth Du was born and raised in Grand Rapids, Michigan. She attended the University of Michigan for her undergraduate education, where she received a Bachelor of Science in Biochemistry. She then attended medical school at Wayne State University and completed her ophthalmology residency at Henry Ford Hospital in Detroit, Michigan where she was co-chief resident. Dr. Du then joined the University of Michigan Kellogg Eye Center comprehensive ophthalmology department where she practiced for six years.

Dr. Du's medical interests are focused on comprehensive ophthalmology, which includes cataracts, glaucoma, corneal disease, eyelid disease, diabetic retinopathy, and macular degeneration.
Education
Bachelor of Science, Biochemistry: University of Michigan
Doctor of Medicine: Wayne State University
Ophthalmology Residency: Henry Ford Hospital
Personal Hobbies
Running
Film
Volunteering
Travel
Languages Spoken